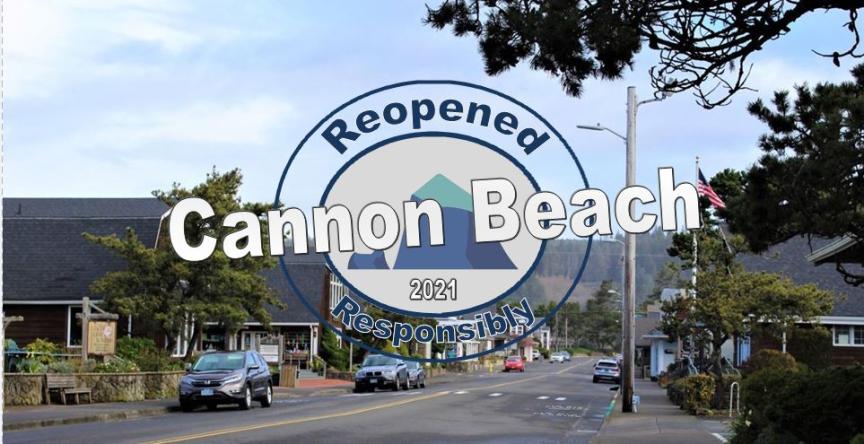 State Restrictions have been Lifted!
COVID-19 Guidance
(Updated July 29, 2021 1:00pm)
We encourage everyone to be informed of the latest developments and make your decisions based on what is best for you, your business, employees, and customers.
"Cannon Beach is committed to the health and safety of everyone in our community"
-Cannon Beach Chamber Staff
Reopening Timeline
Thursday, July 29th
In response to a large jump in cases and hospitalizations and new national guidance calling for masking measures to prevent the spread of the highly transmissible Delta variant, OHA is now recommending universal mask use in public indoor settings throughout the state to protect Oregonians from COVID-19. Read More HERE!
Tuesday, June 30th
Oregon COVID restrictions are lifted!
COVID face coverings and physical distancing restrictions have been lifted, with certain federally mandated exceptions, including health care, public transit, and airports. Businesses can still choose to put their own limits on their operations, as long as they do so consistent with public health guidelines. Read more from Clatsop County Here.
June 25th Governor Brown held a press conference today announcing the next phase of reopening Oregon. Read more from the State, HERE. 
The Governor signed a recovery-focused executive order lifting Oregon's risk level framework, and all remaining COVID-19 health and safety restrictions that have been issued under Oregon's emergency statutes when Oregon reaches 70% of adults vaccinated, or by Wednesday, June 30th - whichever comes first.
May 13th, the Centers for Disease Control and Prevention (CDC) issued new guidance, which no longer requires that fully vaccinated people wear a mask or physically distance in any setting, "except where required by federal, state, local, tribal, or territorial laws, rules, and regulations, including local business and workplace guidance."
Following the CDC's recommendations, Governor Kate Brown issued an official press release indicating that Oregon would follow suit.
"Starting Friday, May 14th, Oregon will be following this guidance, which only applies to fully-vaccinated individuals," said Governor Brown. "That means Oregonians who are fully-vaccinated no longer need to wear masks or social distance in most public spaces."
Oregon Health Authority Updated Guidance:
Learn more:
Map of County Risk Levels Updated Weekly (Hover over the county for week updates)
Click HERE for county-specific guidance (Look under Guidance from OHA - Guidance Based on County Risk Level).
The new framework has four risk levels based on counties' current COVID-19 spread. At each risk level — Extreme Risk, High Risk, Moderate Risk, and Lower Risk — health and safety measures and guidance for businesses and individuals will apply.
The framework is intended to establish sustainable protection measures for Oregonians in counties with rapid spread of COVID-19, while balancing the economic needs of families and businesses in the absence of a federal aid package.
Oregon counties that reduce their COVID-19 risk levels in coming weeks and months will be able to incrementally move to lower levels.
It's important to note that there is no zero risk category. Until COVID-19 vaccines are widely available, health and safety precautions will remain in place so that schools, businesses and communities can reopen, and stay open.
At every risk level, to prevent COVID-19 outbreaks, Oregonians must continue to wear face coverings, watch their physical distance, wash hands, stay home when sick, and keep social get-togethers and gatherings small.
Oregon Risk Level Restrictions Guidance
New Guidance as of December 3rd: Oregon counties are based on Risk Levels that are updated weekly, click HERE to learn more.
County Guidance
Counties are categorized under Lower, Moderate, High, and Extreme Risk Level restrictions. Click HERE for county specific guidance (Look under Guidance from OHA - Guidance Based on County Risk Level).
Statewide Guidance
Updated Reopening Guidance & FAQs
Updated 4/27/21 General for Employers & Organization - Sector Guidance
Indoor Recreation & Fitness Establishments updated 4/23/21 - Sector Guidance & updated 5/12/21 - FAQs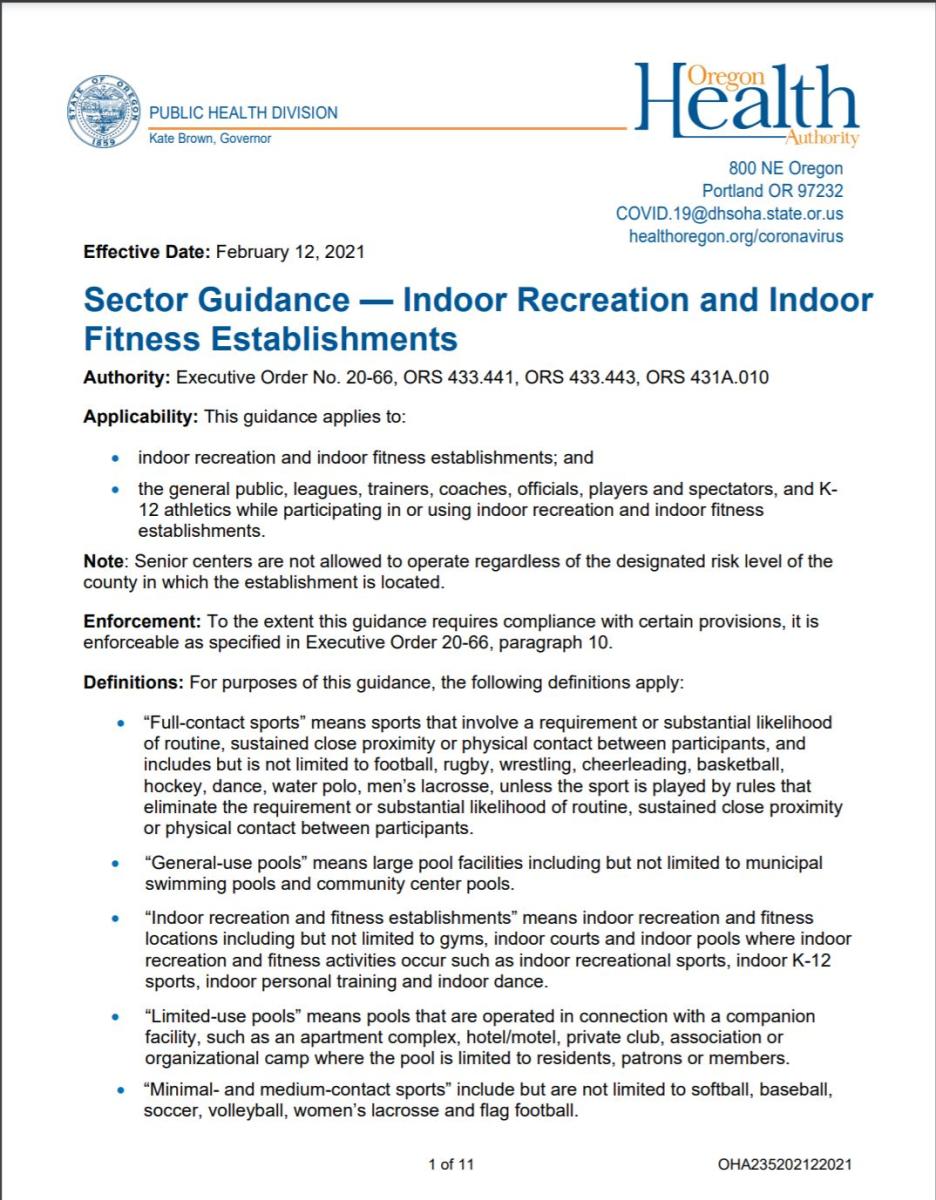 Indoor Entertainment updated 4/27/21 - Sector Guidance & updated 5/6/21 - FAQs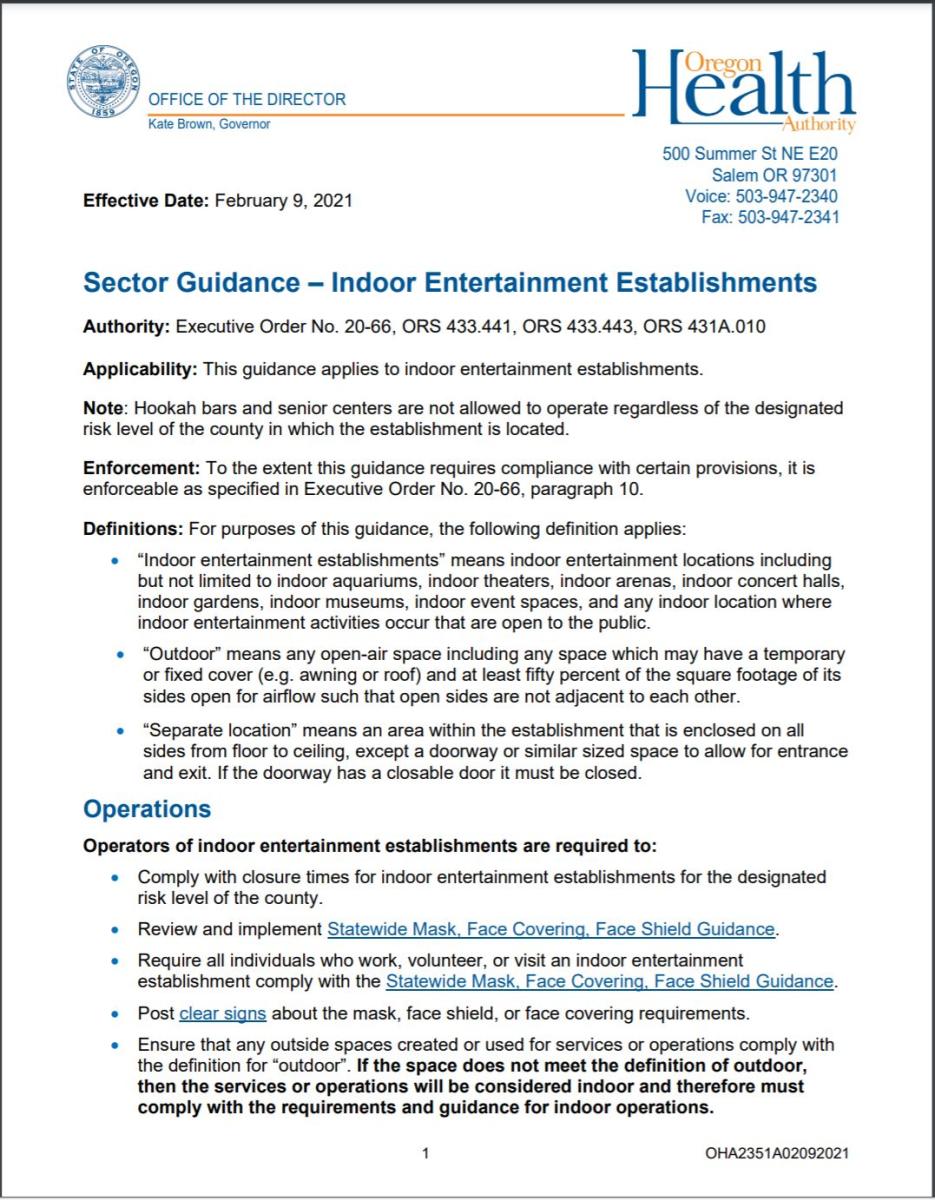 Helpful Sample Documents
Multi-Chamber Resource: Back to Business ToolKit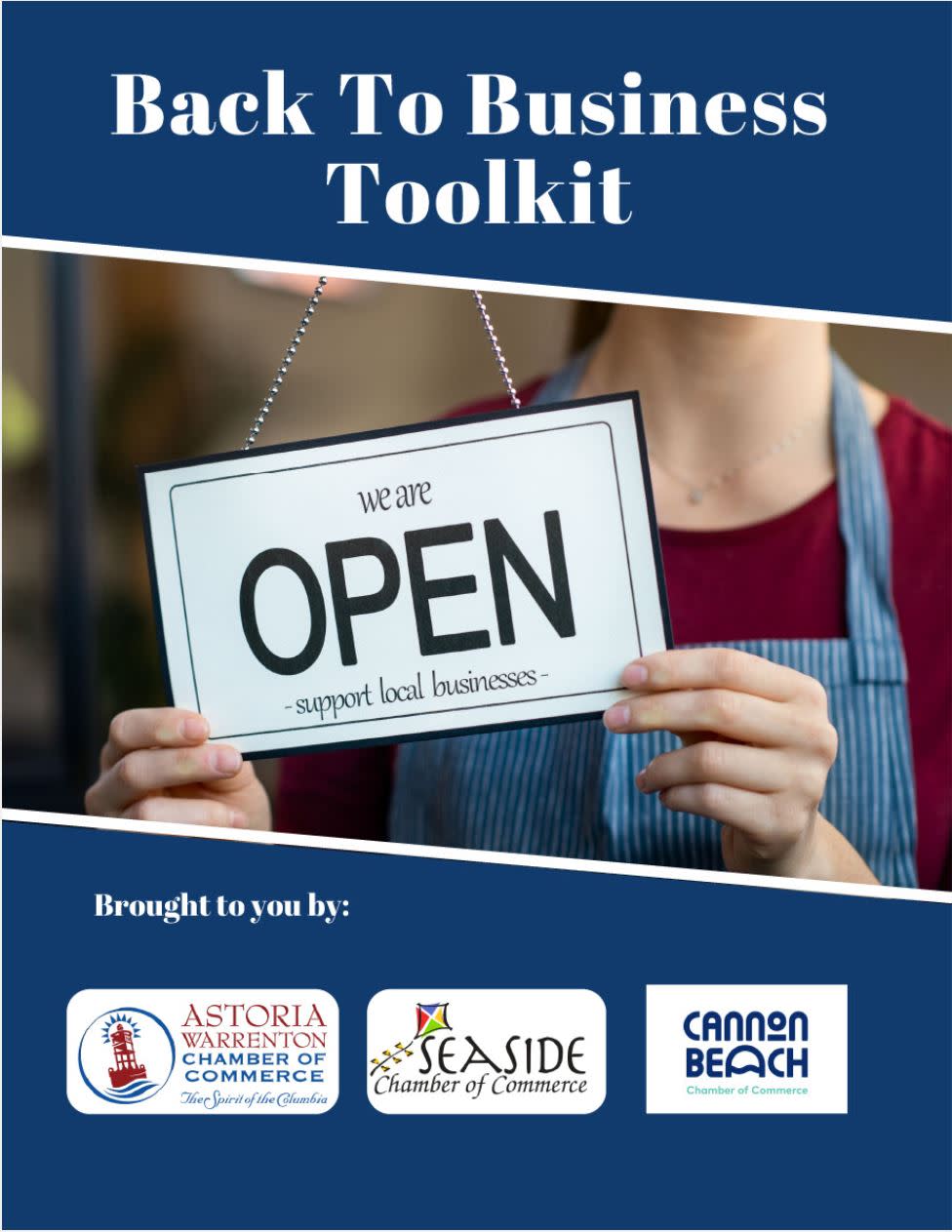 Preparing for Employees to Return to the Workplace Guidance
Notice of Employee Recall Letter