Back
Fat Bike Festival
The dates for this event have already occurred, please check back again for new dates.
Address

:

207 N Spruce Street, Cannon Beach, OR 97110

Phone:

(503) 436-2623
Details
Presented By

: Cannon Beach Chamber of Commerce

Dates

:

April 30, 2021 - May 2, 2021

Recurrence

:

Recurring daily

Location

:

Around Town & On the Beach

Time

:

Friday, Saturday, and Sunday
Come and enjoy a weekend of fun Fat Bike events and explore the beaches & quaint community of Cannon Beach by Fat Bike.  Events planned throughout the weekend include beach bike ride, a self-guided ride on the Klootchy Creek Trails, a "Community Scavenger Hunt" around town to discover hidden treasures and tasty treats, bonfire with Fat Bike games and activities to finish off the day.  We will have a 13 mile beach bike ride to Hug Point and the scenic waterfall during low tide.  Lots of fun Fat Bike activities but still plenty of time to explore and enjoy Cannon Beach.  Each participant will receive a Fat Bike Festival mask upon arrival.  
Due to limited availability, we will not have Fat Bikes to demo this year.  You will need to bring your own Fat Bike to join the event. 
All activities will be under current COVID Guidelines and under the Oregon Health Authority Sector Guidance - Outdoor Recreation and Outdoor Fitness Establishment Order & follow all CDC Guidelines.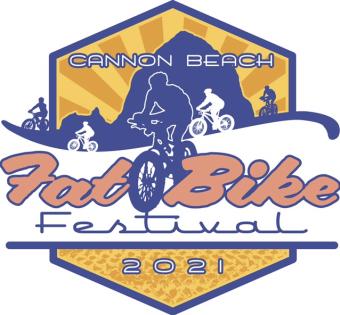 2021 SCHEDULE OF EVENTS:
Friday, April 30th
5-7pm  |  Packet pick up @ Cannon Beach Chamber ~ Community Hall,  207 N Spruce St, Cannon Beach, OR 97110
7:30-8:30pm | Fat Bike Meet Up - Meet at the Chamber at 7:30pm for a sunset beach ride along Ecola Creek and on to Haystack Rock to kick off the weekend.
Saturday, May 1st
9:30am -12:30pm | Fat Bike Beach Ride to Waterfall.  13 mile Beach Ride to waterfall & back.  Enjoy a picturesque beach ride past Haystack Rock, along the old "Oregon Beach Highway," and to the beautiful waterfall at Hug Point.  Participants will be started in staggered intervals and keep at least a bike length between themselves and other participants.  Staff will be scattered throughout points on the ride to assure safety and social distancing.      
2-6pm  |  Community Scavenger Hunt – A fun way to explore the town's best views, "locals spots," eats, brews, & shops.  A map will be in your packets and your adventure can begin as soon as you finish your beach ride.  Can be done by bike or on foot.  Families are welcome to join you on this interactive community Scavenger Hunt to find the hidden treasures and wonderful places of Cannon Beach! 
7-9pm | Beach bonfire and Fat Bike games.  Meet at Tolovana Beach State Recreation Site (in front of Mo's Restaurant) to enjoy bonfires, brews, & fat bike beach races & games.  We will have several activities set up along a stretch of beach and rotate small groups through each game/race/task where they will sample beverages from local breweries and enjoy the warmth of a bonfire.  
Sunday, May 2nd
Participants are encouraged to drive to Klootchy Creek County Park (On HWY 26, approx. 5 ½ miles from Cannon Beach) where you can take a self-guided ride of the Klootchy Creek Trails.  The Klootchy Creek Trails are "Oregon's newest MTB specific riding area" and worth a stop to check them out.  There are a range of trail options from Beginner to Intermediate and Advanced level rides.  (Free recreational permit required to ride ~ click on link below).
Greenwood Resources Lewis & Clark Timberlands Access Permit (free) Required: Click HERE!
Here is link on where to park & meet to ride the trails: Klootchy Creek Google Map HERE!
Klootchy Creek Trails:  Here is the link to the trail maps from Trailforks: Click HERE!
MUST READ & SIGN OFF ON BELOW ITEMS IN ORDER TO REGISTER FOR EVENT: