THANK YOU TO EVERYONE WHO MADE THIS YEAR'S FESTIVAL POSSIBLE!
Check this page for details on next year's event on November 3-5, 2023!
35th Stormy Weather Arts Festival
  November 4-6, 2022
For 35 years, the Stormy Weather Arts Festival on the first weekend in November has been one of Cannon Beach's most popular events. You can immerse yourself in the creative culture that has long been a part of this community recognized as one of the 100 best art towns in America. The weekend offers musical performances and gallery events with the opportunity to meet renowned artists, see their latest works or watch them demonstrate their techniques.
Enjoy a variety of gallery receptions, artist demonstrations, and paint classes, and catch free live musical performances with regional musicians at outdoor venues throughout the town.
Cannon Beach is home to more than a dozen art galleries. Many of their most successful national and regional artists and prominent local artists will be showcased during the festival. 
Featured Festival Artwork Artist 2022: Miska Salemann
"Rocking The Milky Way" ©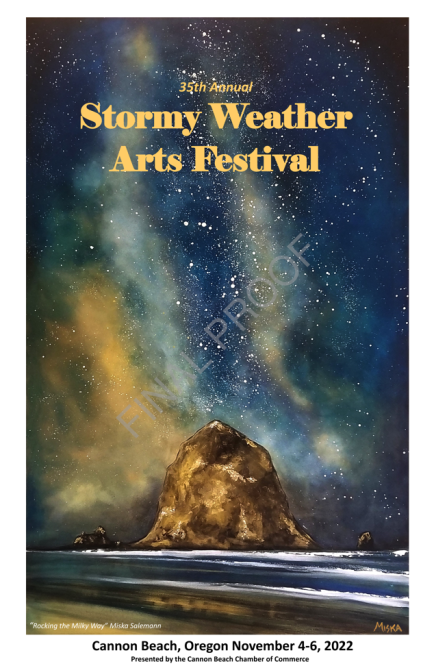 Original will be on display at Miska Gallery by September 2022
Open edition and limited edition prints available for purchase here.
2022 Schedule includes but is not limited to:
Self-Guided Public Art Walking Tour , gallery showings, events and guest artists throughout town.
A complete list of galleries and their event details can be found below or download pdf here!
Busking Station Locations for Music Around Town
🎸 THE LANDING | 224 N. Hemlock 🎸
🎸 SANDPIPER SQUARE | 172 N. Hemlock 🎸
🎸 COASTER THEATRE SQUARE | 124 N. Hemlock 🎸
🎸 KIKI'S MARGARITA BAR | 271 N. Hemlock 🎸
This year's buskers schedule (subject to change and weather dependent):
11 a.m. to 12:30 p.m.
THE LANDING - Full Moon Stomp
SANDPIPER SQUARE - Carr Family Band
COASTER THEATRE SQUARE - Bruce & Joe
KIKI'S MARGARITA BAR - Andy & Boris
1 p.m. to 2:30 p.m.
THE LANDING - Mike & Bryan
SANDPIPER SQUARE - Oceans II
COASTER THEATRE SQUARE - KotoJazz
KIKI'S MARGARITA BAR - WishFlower
3 p.m. to 4:30 p.m.
THE LANDING - Andy & Boris
SANDPIPER SQUARE - Randy & Ray
COASTER THEATRE SQUARE - Lauren Sheehan Duo
KIKI'S MARGARITA BAR - Travis Hartnett
Thank you to our Event Sponsors
Thank you to our Music Sponsor
and
Official Festival Events Around Town
Sponsor Spotlight- thank you to our 2022 sponsors!