Cannon Beach Sandcastle Contest
Results of the 59th Sandcastle Contest by Division
Master's Division
1st Place - Form Finders - Hair to the Throne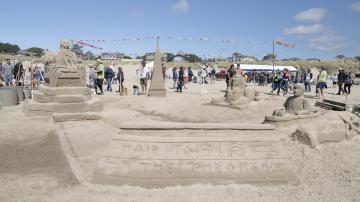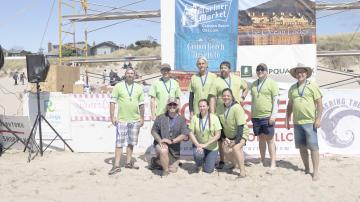 2nd Place - Ozymandias - Turtles All The Way Down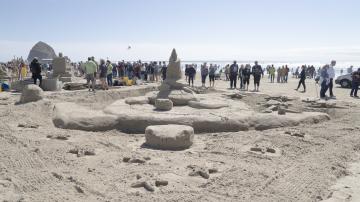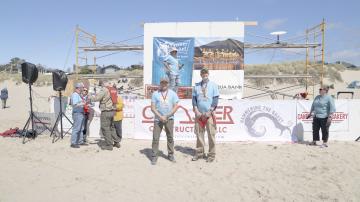 3rd Place - The Hey! Stackers! - Jammin Animals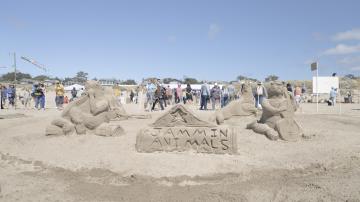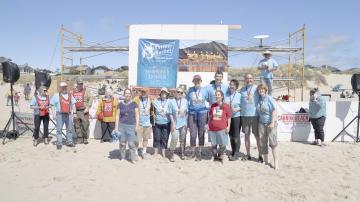 Large Group
1st Place - Pug Love - Pugkin Patch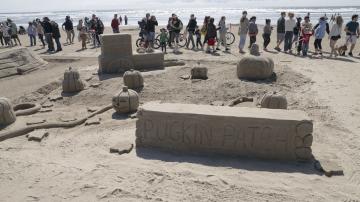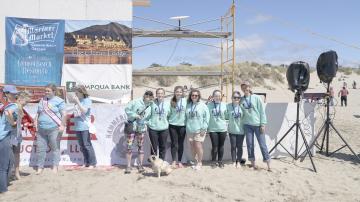 2nd Place - Camp Castle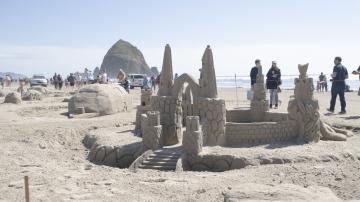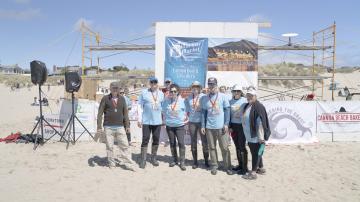 3rd Place - The Juicy Fat Lobsters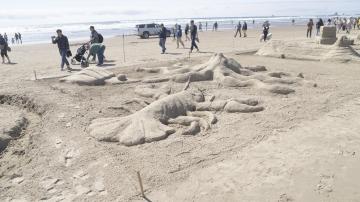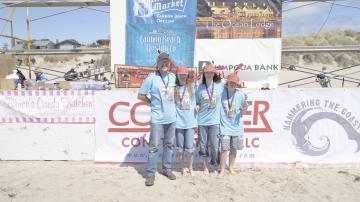 Small Group
1st Place - Turtilla Flotilla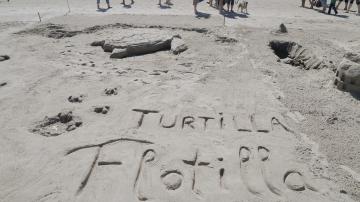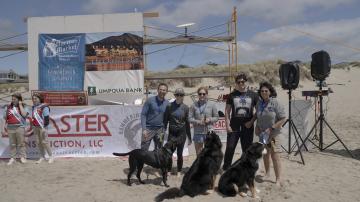 2nd Place - JJ Sands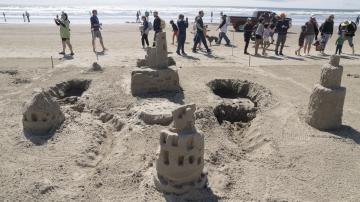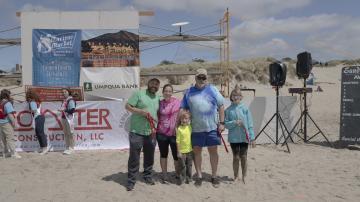 3rd Place - Las Tortugas Marinas Verdes
Sand Teens
1st Place - Sisters are Doing it Together
Sand Juniors
1st Place - Haystack Rocks!
2nd Place - Larsens
3rd Place - Valli
Sand Flea Participants
The Sand Band, Majestic Littles, Dragon Castle Warriors, Andrade, The Nehalem Bay Sand Slingers
Congratulations to all of the 2023 winners and participants! We look forward to seeing you all again next year on June 15, 2024.
For more photos of the 59th Annual Sandcastle Contest please visit the Cannon Beach Sandcastle Contest Facebook Page.
For 5k participant photos, reach out to Sierra at marketing@cannonbeach.org.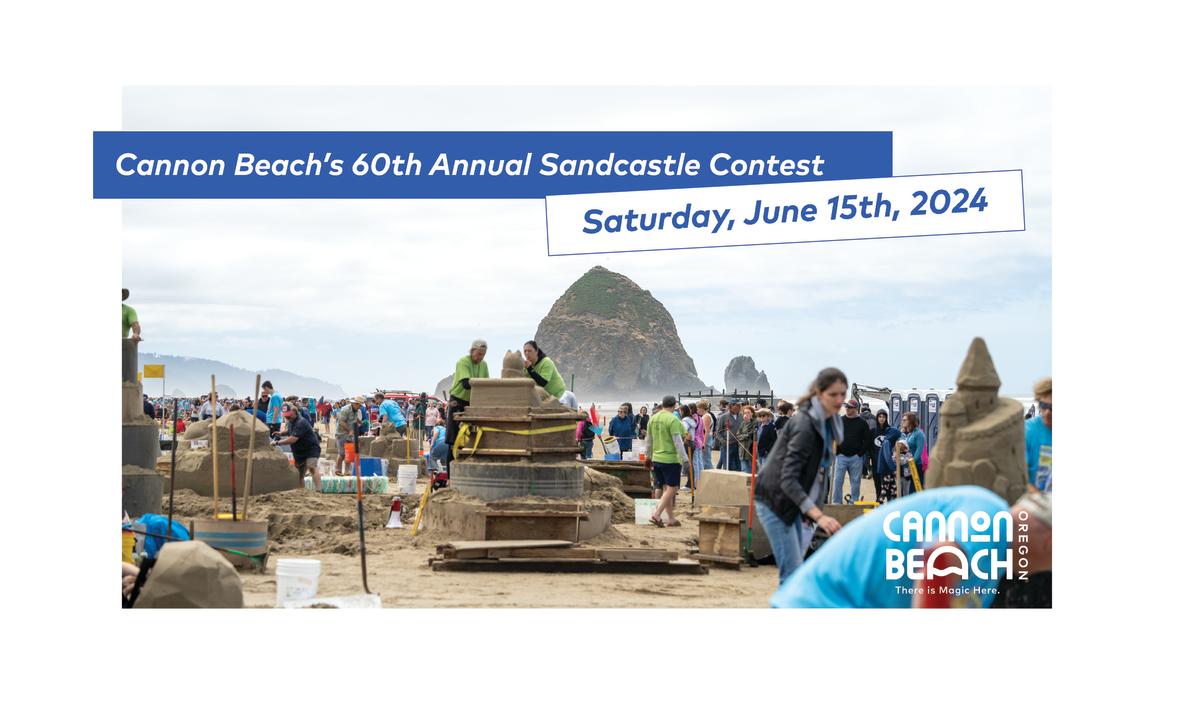 History of the Sandcastle Contest:
The Cannon Beach Sandcastle Contest began in 1964 when a tsunami washed out the Elk Creek Bridge, and residents were relatively isolated until a new bridge could be built.  That spring, local families gathered for a Sandcastle Contest to entertain their children and attract visitors.  That Sandcastle Contest became one of the largest sandcastle contests on the west coast.
Divisions of the contest include Sand Fleas, Juniors, Teens, Small Group, Large Group, and Masters.  Contest rules are simple, and no themes are mandated.  This often results in a creative and sometimes colorful commentary on current events.  Each team is given a plot of sand within a designated viewing area, and sand may not be added or removed.  Only natural materials found on the beach, such as sticks, shells, rocks, and seaweed, may be used for ornamentation.  No artificial coloring, paint, flour, sugar, starch, adhesives, or cement may be added.
In 2014, the Cannon Beach Sandcastle Contest was recognized as an Oregon Heritage Tradition by the Oregon Parks & Recreation Department, making it one of just 26 events statewide to achieve such a designation. An Oregon Heritage Tradition is an event with broad public appeal, with at least 50 years of continuous operation, contributing to the state's identity.
Weekend events include a bonfire with music & smores, the sandcastle contest, and our Singing Sands 5K Fun Run/Walk.  
Supporters and collectors can buy 2023 limited edition posters and other merchandise online and in person at our Information Center.

2023 Contest art by Miska Salemann
Artists Bio: Miska Salemann
Miska was born Emily Salemann, a child of immigrants with German, Russian and Serbian heritage. She is a self-taught painter, studying works of the great modern masters daily. Miska's journey as a painter began in St. Thomas, USVI as a basic need to provide artwork for a vacation home on the island. Hence, the birth of her business model: combining her love for art and real-estate to create extraordinary art-filled homes.

In August 2000, Miska was chosen by U.S. ART magazine as one of 25 prominent artists featured, and called her "an emerging success." Her paintings are colorful and expressive. Her figures are very endearing. The blend of Roman Catholic and Russian Greek Orthodox religious upbringing has manifested itself in her highly successful series of modern abstract Madonna Icons. When told that her paintings are very Picasso-like, she replies that her images are "happier" and her figures more recognizable.

Miska often incorporates iridescent colors in her works that give them an amazing reflective quality. Her work is also rich in symbolism. Umbrellas, which are very common in her work, are symbols of the shelter that the love of friends and family provide in life. The circles found on the faces and chests of her figures are symbols of the blush of romance and the security of love. Her paintings often reflect a Northwest palette and a love for coffee and wine.

In 2017 Miska purchased her first home in Cannon Beach, where she retains a studio apartment. Miska splits her time between the Oregon coast and her Art Farm in Fall City, WA, where the roosters in the henhouse inspired her popular series of rooster paintings.

On Christmas Eve 2020 Miska purchased the Columbia Bank Building, across from Pelican Brewing and the Hallmark Resort, a mixed use commercial space with two spectacular apartments above. Miska is now the Artist in Residence at her Cannon Beach Studio and Gallery.
Download the Experience Cannon Beach app at the App Store or the Google Play Store today!
Save the date for next year: June 15, 2024