Sandcastle Contest
The 57th annual Cannon Beach Sandcastle Contest will be a virtual Summer of Sandcastles with the kick-off June 5. The virtual competition is intended to be a COVID-safe alternative during this time requiring physical distancing for public safety. So, start sketching your dream sand creation for 2021!
Cannon Beach has hosted this beloved event since 1964. Chamber Executive Director, James Paino explained, "The health of our community, volunteers, competitors, and attendees must come first. Rather than a one day, large-crowd event, the virtual contest goes the entire summer so more builders can safely participate."
Volunteer and Committee Chair Debbie Nelson said "It's fun to come across a sandcastle while walking on the beach. We have encouraged past teams to come create and build on their own through September 6th. I can't wait to find the sandcastles and sculptures they build!"
Supporters and collectors can buy 2021 limited edition posters and other merchandise are available online and in-person at our Information Center.
In 2014, the Cannon Beach Sandcastle Contest was recognized as an Oregon Heritage Tradition by the Oregon Parks & Recreation Department, making it one of just 26 events statewide to achieve such a designation. An Oregon Heritage Tradition is an event with broad public appeal, with at least 50 years of continuous operation and that contributes to the identity of the state.
Sandcastle Events Include:
Concert in the Park w/ Bruce Smith Band
Friday, June 4th | 6:00pm - 8:00pm | Free Admission
Location: City Park behind the Chamber
(A health & safety conscious event following all State & CDC COVID safety guidance)
Virtual Sandcastle Contest
Saturday, June 5th - September 6th | Cost: $25
Pick up your Sandcastle Kit at the Chamber Visitor Information Center
Registration Details - PDF Download
Virtual Singing Sands Fun Run/Walk
Sunday, June 6th - June 21st | Cost: $35
For More Information on Registration - Click HERE
2021 Featured Artwork by Kim Schult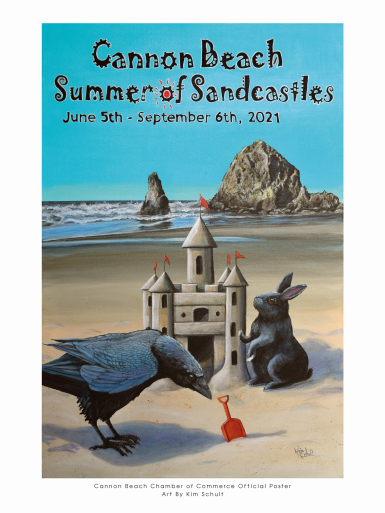 Artists Bio: Kim Schult
"I was very honored to be asked to make the 2021 Cannon Beach Summer of Sandcastles poster. It really has been a great experience. I am a full time acrylic artist. I live in Rochester Washington on a 5 acre farm, with my husband Mark who happens to be a professional artist also. We own cows, horses, and chickens. And love having a garden each year. As for my painting, my favorites to do are landscapes and animals. Especially crows and ravens. I am extremely happy to be represented by DragonFire Gallery in Cannon Beach. So we get to visit there often. I use Cannon Beach as inspiration for quite a bit of my art. I think because it has always been a very happy place for all of my family to visit. And of course the views are phenomenal. Thank you for allowing me to make the 2021 poster!" -Kim
Official 2021 Merchandise available online and at the Information Center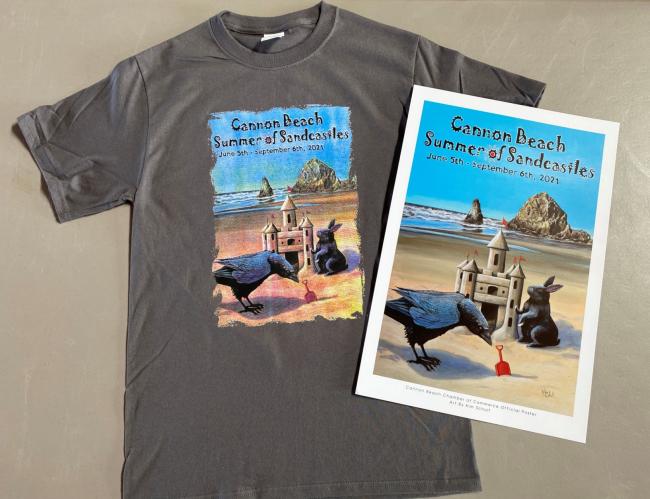 Save the date for next year: June 11, 2022
Click HERE for a list of our 2020 winners!
Below are entries from our Summer of Sandcastles 2020. 
2020 Sandcastle Merchandise is still available online!
or at the Visitor Information Center on 2nd and Spruce Street