North Coast Craft Beer Trail
Astoria to Cannon Beach
Follow the North Coast Craft Beer Trail to discover new taps from Astoria's largest brewery, Fort George Brewery, to Cannon Beach's Pelican Brewing Company and more along Highway 101. Taste your way through bold bitters, rich stouts, and hoppy ales along the 29-mile trail and collect a commemorative pint glass at the end.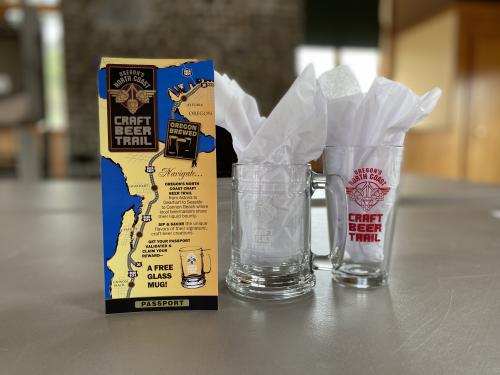 The Beer Trail is a passport-like system connecting our region's breweries into an itinerary to be enjoyed at your leisure. It is a free physical pass or mobile pass program that allows you to check in at participating locations using your phone via redemption codes. Check in to all 12 participating businesses in the passport within a year to earn your reward: an Oregon's North Coast Craft Beer Trail glass mug. The Cannon Beach Chamber Visitor Center is a redemption location for your collectible mug. Must be 21 or older to participate.
Free to sign up: Get your passport, check-in, and earn your mug!
Read more about participating in the North Coast Craft Beer Trail Mobile Pass Program.