Haystack Holidays in Cannon Beach
Cannon Beach's unique specialty shops, boutiques, and galleries are a top attraction in our charming beach town, where you'll find no shopping malls or chain stores, making it a great spot to slow down and enjoy the hunt for those perfect holiday gifts. Add some evergreen garlands, twinkling lights, and red ribbon, and you'll begin to see how much holiday magic can unfold in our beautiful little village by the sea. 
Beginning in November, we invite you to experience that magic during Haystack Holidays, a series of events designed to celebrate the season unlike anywhere else in the country. 
Scrooge! The musical: November & December
A timeless musical adaptation of Charles Dickens' A Christmas Carol, in which the miserly Ebenezer Scrooge undergoes a profound experience of redemption over the course of a Christmas Eve night. For more details visit www.coastertheatre.com or call (503) 436-1242.
Mimosa Madness Weekend: Nov. 25th and Nov. 26th - Plaid Friday & Shop Small Business Saturday
Shop small this holiday season and make a big impact! A two-day complement to our Friday morning Mimosa Madness. Enjoy a safe extended shopping experience along with our early morning specials. For more details, follow us on Facebook @MimosaMadness.  
Holiday Wreath Making Classes:
Saturdays, Nov. 26th, Dec. 3rd 11am-3pm Tues. Nov. 29th, 5-8pm
Get creative at the Chamber Community Hall. This wreath making event even comes with an instructor, along with holiday music! Recycle last year's ring and receive a discount.
Holiday Cookie Contest: Saturdays, Nov. 26th and Dec. 3rd., 11am-3pm
During the Wreath making classes we are holding our Holiday Cookie contest. Stop by the Chamber community Hall between 11am and 3pm to taste these wonderful creations and make your vote for the winner.                                                              
'Name That Tune' Window Display Contest: Nov. 28 – Dec. 20
Visit locations to determine which "tune" matches the window, submit your playing card for a chance to win a holiday gift basket. Download playing card HERE 
Awards/winners will be announced on Facebook on the 21st.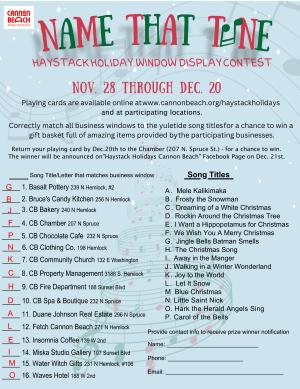 Cannon Beach Library Holiday - Sat., Dec. 3rd, 1-4pm
Enjoy home baked cookies, tea and cider. During the event they will draw the winner of their annual Quilt Drawing; you do not have to be present to win. Cozy up at the Cannon Beach Library from 1pm-4pm. For more details, visit www.cannonbeachlibrary.org  - call (503)436-1391.
Lamp Lighting Ceremony: Sat., Dec. 3rd, 4pm
Join us in Sandpiper Square for a beloved Cannon Beach holiday tradition starting at 4pm. Free to the public. For more details, call (503) 436-2623.
Fireside Story Time and Pictures with Santa: Sun., Dec. 4th, 4pm
Settle in by the fireplace for a holiday story with Santa Claus at the Surfsand Resort. Join in to watch Santa Claus read jolly tales and answer any questions that the kids have for Santa. Take this chance to get a picture with Santa! We hope to see you there for a merry good time!
Operation Candy Cane: Sat., Dec. 10th - Dec. 12th, Starting at 6:00 PM
T'was the nights before Christmas and all through our town, the fire siren echoes, blaring its sound. It could only mean…It's time for the FIRST Cannon Beach Fire District Operation Candy Cane. Santa will be traveling the streets of the city on a decorated fire engine. Firefighters will be handing out candy canes to those who come out to meet them while collecting cans of food or items for the warming center and for the local food bank. www.cbfire.com/operation-candy-cane-dec-10th-12th
Paint & Sip: Sat. Dec. 17th, 6-8pm
Paint with Dawning as she walks you through a holiday inspired creation of your own! Tickets $40, purchase at
 Haystack Holidays presents Paint 'N Sip with Dawning McGinnis Tickets | Cannon Beach Chamber of Commerce (simpletix.com)
Caroling Downtown: Tues., Dec. 20th at 4:30-6:00pm
Caroling is a time-honored tradition and spreading the yuletide cheer downtown.  We'll start at the Chamber and go through downtown ending for hot chocolate at the Chamber Community Hall.
Carols for preview - click here
Lauren Kinhan Concert: Thurs., Dec. 23rd at 7:30pm
Love Letters and Ornaments in Blue will feature Oregon expat, Lauren Kinhan, in the place from which all her music and inspiration springs. For more details visit www.coastertheatre.com or call (503) 436-1242.
Holiday Foods Around the World – Dec. 26th – 30th
Visit participating Cannon Beach restaurants as they feature unique food and beverage specials highlighting many different countries and cultures.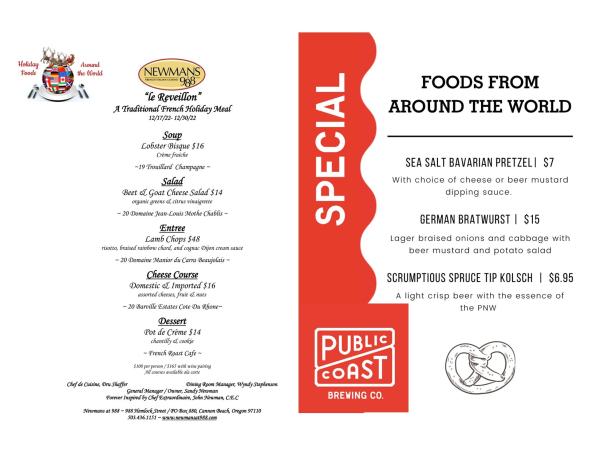 For more information, visit www.cannonbeach.org/HaystackHolidays   and www.facebook.com/HaystackHolidaysCannonBeach  or call the Cannon Beach Chamber of Commerce at (503) 436-2623
Follow us on Facebook for up-to-date information and posts @HaystackHolidays
Haystack Holidays Ornaments featuring artwork by Bill Steidel are Ornaments are currently out of stock.
Proceeds go to support Haystack Holidays.