Haystack Holidays in Cannon Beach
Cannon Beach's unique specialty shops, boutiques, and galleries are a top attraction in our charming beach town, where you'll find no shopping malls or chain stores, making it a great spot to slow down and enjoy the hunt for those perfect holiday gifts. Add some evergreen garlands, twinkling lights, and red ribbon, and you'll begin to see how much holiday magic can unfold in our beautiful little village by the sea. 
Beginning in November, we invite you to experience that magic during Haystack Holidays, a series of events designed to celebrate the season unlike anywhere else in the country.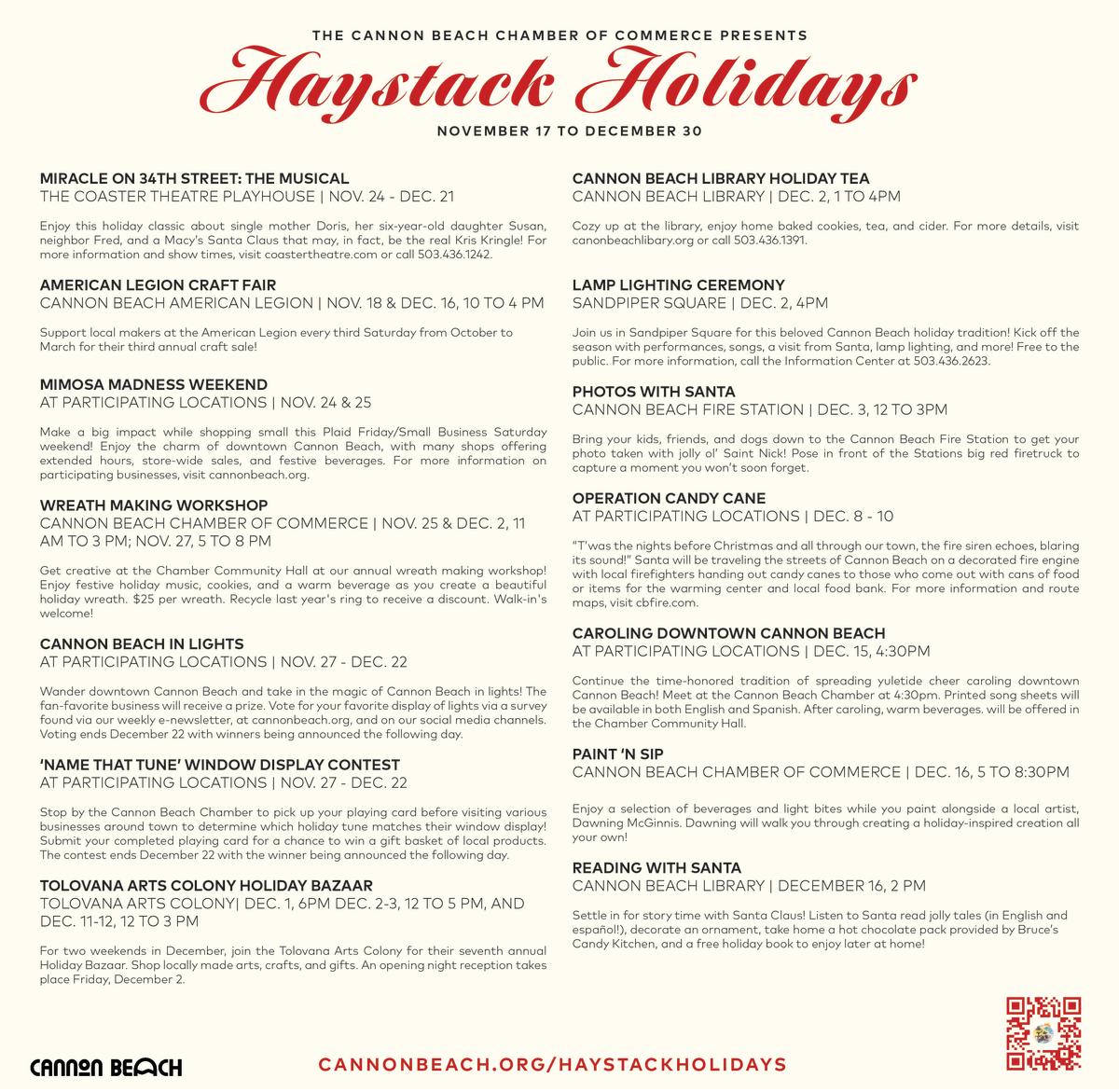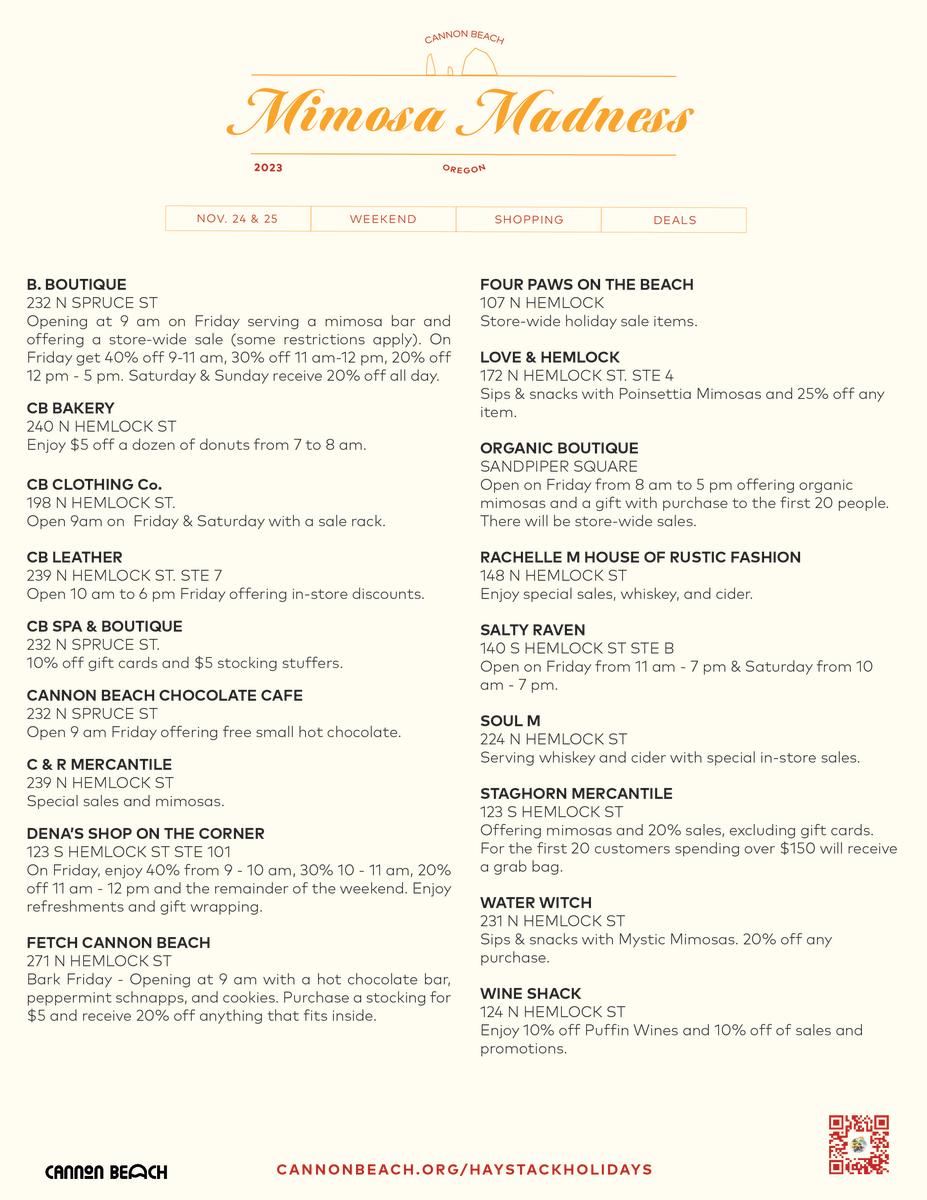 Miracle on 34th Street: The Musical: November 24-December 21  
Enjoy this holiday classic about single mother Doris, her six-year-old daughter Susan, neighbor Fred, and a Macy's Santa Claus that may, in fact, be the real Kris Kringle! For more information and showtimes, visit coastertheatre.com or call 503.436.1242. 
American Legion Craft Fair: November 18 and December 16, 10 am-4 pm 
Support local makers at the American Legion every third Saturday from October to March for their third annual craft sale! For more details on the event, visit here.
Mimosa Madness Weekend: November 24-26 
Make a big impact while shopping small this Plaid Friday/Small Business Saturday weekend! Enjoy the charm of downtown Cannon Beach, with many shops offering extended hours, store-wide sales, and festive beverages. For more information on participating businesses, visit cannonbeach.org.   
Wreath Making Workshop: November 25, 11 am-3 pm, November 30, 5 pm - 8 pm & December 2, 11 am-3 pm 
Get creative at the Chamber Community Hall at our annual wreath-making workshop! Enjoy festive holiday music, cookies, and a warm beverage as you create a beautiful holiday wreath. $25 per wreath. Recycle last year's ring to receive a discount. Walk-in's welcome!  
Cannon Beach In Lights: November 27-December 22 
Wander downtown Cannon Beach and take in the magic of Cannon Beach in lights! The fan-favorite business will receive a prize. Vote for your favorite display of lights via a survey found in our weekly e-newsletter, at cannonbeach.org, and on our social media channels. Voting ends December 22 with winners being announced the following day.   
'Name That Tune' Window Display Contest: November 27-December 22  
Stop by the Cannon Beach Chamber, (Mon.- Sat. 10am-5pm), to pick up your playing card before visiting various businesses around town to determine which holiday tune matches their window display! You can also download/print your playing card here. Submit your completed playing card to the Chamber for a chance to win a gift basket of local products. The contest ends December 22 with the winner being announced the following day. 
Tolovana Arts Colony Holiday Bazaar: December 1, 6 pm Opening Reception, December 2-3, 11-12, Noon to 5 pm 
For two weekends in December, join the Tolovana Arts Colony for their seventh annual Holiday Bazaar. Shop locally-made arts, crafts, and gifts. An opening night reception takes place on Friday, December 2. More details about this event can be found here.
Cannon Beach Library Holiday Tea: December 2, 1-4 pm 
Cozy up at the library, enjoy home-baked cookies, tea, and cider, and enter the annual Quilt Drawing! You do not have to be present to win. For more details, visit canonbeachlibary.org or call 503.436.1391. More details about this event here.
Lamp Lighting Ceremony: December 2, 4 pm 
Join us in Sandpiper Square for this beloved Cannon Beach holiday tradition! Kick off the season with performances, songs, a visit from Santa, lamp lighting, and more! Free to the public. For more information, call the Information Center at 503.436.2623. Watch the previous year's lamp-lighting ceremony on YouTube.
Photos with Santa at the Cannon Beach Fire Station: December 3, 12-3 pm  
Bring your kids, friends, and dogs down to the Cannon Beach Fire Station to get your photo taken with jolly ol' Saint Nick! Pose in front of the station's big red firetruck to capture a moment you won't soon forget. For more information about the event, visit here.
Operation Candy Cane: December 8, 9, and 10    
"T'was the nights before Christmas and all through our town, the fire siren echoes, blaring its sound!" Santa will be traveling the streets of Cannon Beach on a decorated fire engine with local firefighters handing out candy canes to those who come out with cans of food or items for the warming center and local food bank. For more information about the event, visit here.
Caroling Downtown Cannon Beach: December 15, 4:30 pm  
Continue the time-honored tradition of spreading yuletide cheer caroling downtown Cannon Beach! Meet at the Cannon Beach Chamber at 4:30 pm. Printed song sheets will be available in both English and Spanish. After caroling, warm beverages. will be offered in the Chamber Community Hall.  
Paint 'N Sip: December 16, 5-8:30 pm 
Enjoy a selection of beverages and light bites while you paint alongside a local artist, Dawning Mcginnis. Dawning will walk you through creating a holiday-inspired creation all your own! To sign up for the class, visit here.
Reading with Santa at the Cannon Beach Library: December 16, 2 pm 
Settle in by the fireplace for story time with Santa Claus! Listen to Santa read jolly tales (in English and Spanish!), decorate an ornament, and take home a hot chocolate pack and holiday book to enjoy later at home! More details about this event here.
Please check back here for more events, dates, and times as we get closer to the holiday season!
For more information, visit www.cannonbeach.org/HaystackHolidays   and www.facebook.com/HaystackHolidaysCannonBeach  or call the Cannon Beach Chamber of Commerce at (503) 436-2623
Follow us on Facebook for up-to-date information and posts @HaystackHolidays
Thank you to the 2023 Haystack Holidays Sponsors