Haystack Holidays
Cannon Beach's exceptional specialty shops, boutiques and galleries are a top attraction in our charming beach town where you'll find no shopping malls or chain stores in sight; making it a great spot to slow down and enjoy the hunt for those perfect holiday gifts. Add some evergreen garlands, twinkling lights and red ribbon and you'll begin to see just how much holiday magic can unfold in our beautiful little village by the sea. 
Beginning in November, we invite you to experience that magic during Haystack Holidays, a series of events designed to celebrate the season unlike anywhere else in the country. 
Join us for the Holidays!
2021 Schedule - details and times coming soon!
November 26 &27   Plaid Friday & Small Business Saturday
Nov. 27 & Dec. 4   Wreath Making Classes
Nov. 29 – Dec. 20  Cannon Beach in Lights
Nov. 29 – Dec. 20  'Name That Tune' Window Contest
December 4   Lamp Lighting Ceremony
Dec. 11  Pictures with Santa
Dec. 12  Soups for Santa
Dec. 23 Caroling Around Town
Dec. 27 – 30 Holiday Foods Around the World
Purchase ornaments HERE!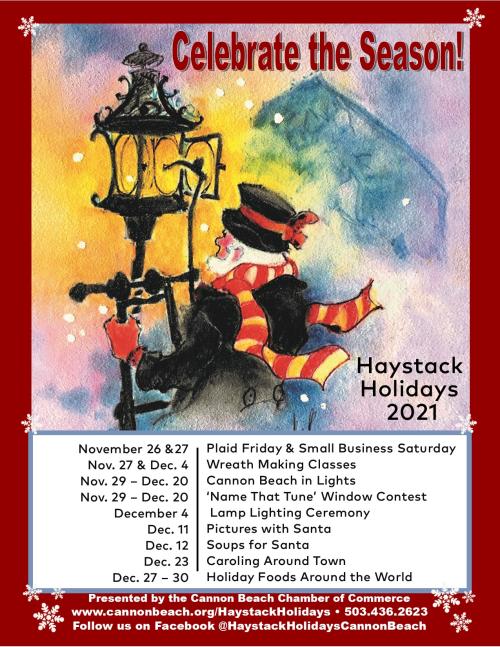 Follow us on Facebook for up-to-date information and posts @HaystackHolidays
Haystack Holidays Ornaments featuring artwork by Bill Steidel is available, while supplies last, at the Chamber Information Center and online HERE.
Proceeds go to support Haystack Holidays