Haystack Holidays
Cannon Beach's unique specialty shops, boutiques, and galleries are a top attraction in our charming beach town, where you'll find no shopping malls or chain stores, making it a great spot to slow down and enjoy the hunt for those perfect holiday gifts. Add some evergreen garlands, twinkling lights, and red ribbon, and you'll begin to see how much holiday magic can unfold in our beautiful little village by the sea. 
Beginning in November, we invite you to experience that magic during Haystack Holidays, a series of events designed to celebrate the season unlike anywhere else in the country. 
Haystack Holidays 2021 Schedule
Coaster Theatre Radio Hour: Weekends, November 19th – December 18th
A radio hour rendition of Charles Dickens's A Christmas Carol. Written, workshopped, and performed by our community. For more details, visit www.coastertheatre.com or call (503) 436-1242.
Plaid Friday & Small Business Saturday: November 26th - 27th
Shop this holiday season locally and make a significant impact!  Take this opportunity to shop small and get something for everyone on your holiday shopping list with specials. Wear PLAID to show your love and support for local businesses.
Holiday Wreath Making Classes: Saturday, November 27th and December 4th, 11:00 am – 3:00 pm.
Get creative at the Cannon Beach Chamber of Commerce. This wreath-making event comes with an instructor, refreshments, and holiday music! Recycle last year's ring and receive a $2 discount. Don't miss the Holiday Cookie Contest during the classes, where local bakers compete for Best Cannon Beach Cookie!
This is a "drop-in" class; no need to pre-register.  Wreath-making time depends on experience; novices may take up to an hour to complete their wreath.   Cost $25 for each wreath.
'Name That Tune' Window Display Contest: November 29th – December 20th
Visit participating locations for our annual 'Name That Tune' contest and submit completed playing cards for a chance to win a holiday gift basket. Voting is open through the 20th. Awards will be announced on Facebook on the 21st.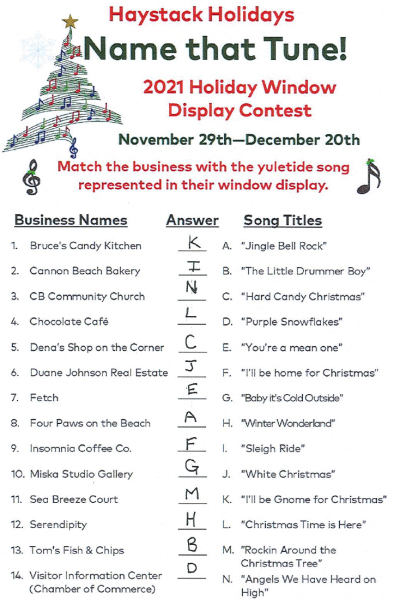 Cannon Beach in Lights November 29th – December 20th
View the beautiful lights and Christmas displays decorating Cannon Beach and vote for your favorite at the Chamber or on the website. Voting is open through the 20th. Awards will be announced on Facebook on the 21st. Link to the voting survey here
Cannon Beach Chorus Holiday Concerts: TBA
Celebrate the sounds of the season with the Cannon Beach Chorus. For locations and more details, visit www.cannonbeachchorus.org or call (503) 436-0378.
Holiday Crafting at Child's Play: December 1st – 23rd
Stop by and decorate Christmas glass ornaments, pom Christmas trees, and Christmas wood signs adorned with twinkle lights. For more events & details, visit achildsplay.com or call (503) 436-4660.
Lamp Lighting Ceremony: Saturday, December 4th at 4:00 pm
Join us in Sandpiper Square for a tender Cannon Beach Christmas experience, our beloved holiday tradition.  Enjoy music, singing, and special guests. Free to the public. For more details, call (503) 436-2623.
Pictures with Santa: Saturday, December 11th from 1:00 pm – 4:00 pm
Santa Claus is coming to town. Support the Cannon Beach Academy and get your photo with Santa.  Join us this year at Sandpiper Square (or the Chamber Community Hall in case of rain).
Soups for Santa: Sunday, December 12th at 12:00 pm – 3:00 pm, various locations
Help Santa prepare for his upcoming voyage by collecting good, hearty soups!  Bring your soup donation to either Tolovana Wayside (from 12:00pm – 12:55pm), Cannon Beach Fire Department (from 1:00pm – 1:55pm), or the old Cannon Beach Elementary School (from 2:00pm – 2:55pm) and meet Santa!  All donations benefit the Cannon Beach Community Food Pantry.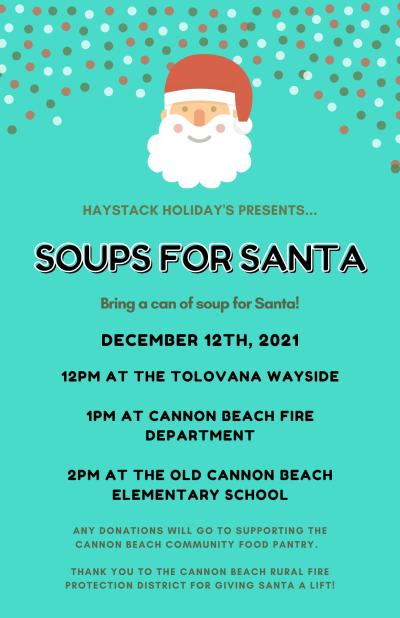 Fireside Storytime with Santa:  Sunday, December 19th at 4:00 pm
Settle in by the fireplace at the Surfsand Resort Ballroom for a holiday storytime with Santa Claus. Enjoy cookies and hot cocoa in the lobby before hearing Santa read   "Night Before Christmas."
Caroling Downtown: Thursday, December 23rd from 5:00 pm-6:00 pm
Caroling is a time-honored tradition and spreading the yuletide cheer downtown. We'll start at the Chamber and go through downtown ending for hot chocolate at the Cannon Beach Chocolate Café.
Holiday Foods Around the World: December 27th – 30th
Visit participating Cannon Beach restaurants featuring unique food and beverage specials highlighting many different countries and cuisines. Locations list is coming soon.
For more information, visit www.cannonbeach.org/HaystackHolidays   and www.facebook.com/HaystackHolidaysCannonBeach  or call the Cannon Beach Chamber of Commerce at (503) 436-2623
Purchase ornaments HERE!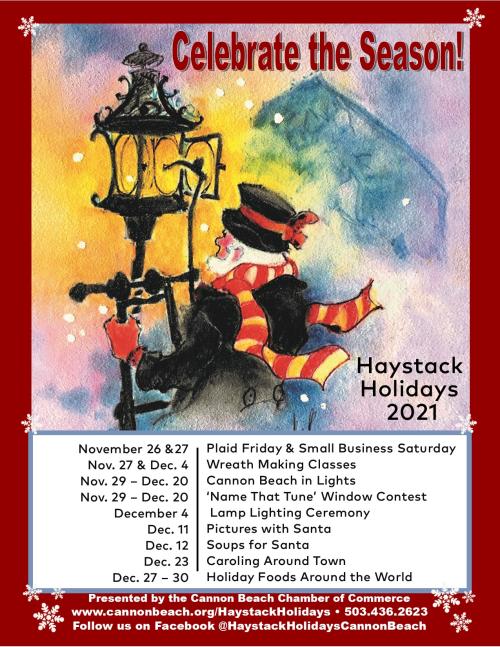 Follow us on Facebook for up-to-date information and posts @HaystackHolidays
Haystack Holidays Ornaments featuring artwork by Bill Steidel is available, while supplies last, at the Chamber Information Center and online HERE.
Proceeds go to support Haystack Holidays.